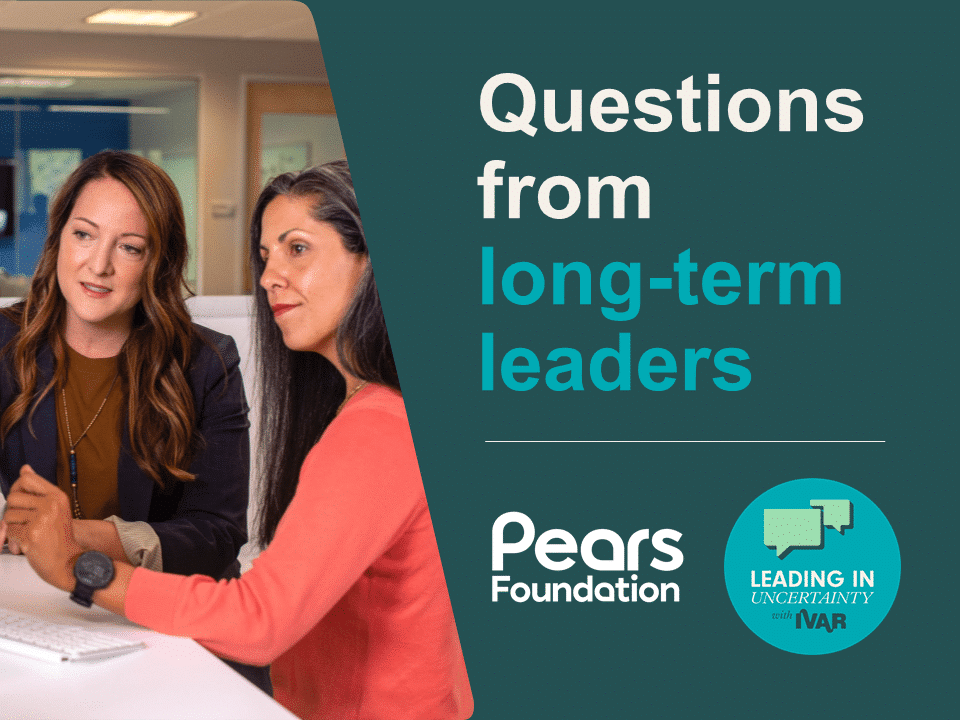 What does succession planning mean, and how can you become 'successor ready'?
Questions from long-term charity leaders
This series shares some of the challenges 12 long-term leaders have been exploring together over the past 18 months, in regular sessions facilitated by our co-founder Director (and long-term leader himself) Ben Cairns. Convened by Pears Foundation, most of the group have been in their senior leadership post for 10 years or more, and many are also founders, or were instrumental to the founding of, their organisation.
The group started meeting before the Covid-19 pandemic, and then continued remotely, so their discussions spanned both pre- and post-Covid contexts. And while this series explores questions that were raised by long-term leaders, we believe that many of their considerations will resonate with all social sector leaders and professionals.
This blog series forms part of our work on Leading in uncertainty.
---
What does succession planning mean, and how can you become 'successor ready'?
Experiences of succession planning amongst our group ranged from fears of the Board 'catastrophising' the Director leaving ('so, the only way I could leave would be to literally throw myself under a bus'), to having open and explicit conversations with trustees about future plans for the organisation, and encouraging them to question 'how can we wean the outside world off the Director?'.
Being intentional, deliberate and purposeful about becoming an organisation that could flourish and thrive without its founder/long-term leader is a critical ingredient of becoming 'successor ready'. A 'succession plan is about a succession culture', so what is passed down (beginning at the recruitment and induction stage for new staff) is the 'spine of the organisation, its essence', with the aim of organisation not being dependent on its leader for sustaining the culture.
Elements of building a succession culture might include:
Opening up Board meetings to staff members (as part of an acculturation process) – although, for some, this raised concerns about unintended consequences: 'how much should we expose staff to the financial security of the organisation?'.
Encouraging staff to work at multiple levels and be intentionally exposed to different elements of the organisation's ways of working. Those with more positive experiences of 'dealing with the challenges of long-term leadership' highlighted the importance of an 'enabling Board that is not terrified of change'.
The Chair's role is critical – they can choose to encourage and enable, or avoid and deter conversations and actions around succession.
Succession planning during Covid-19
The pandemic has thrown everyone's plans into disarray, and disrupted some leaders' hopes of reducing their hours: 'pre-Covid I was thinking about whether I needed to leave. The pandemic has created so much uncertainty … I'm at peace that I'll need to stay for five years to get us through this patch and to leave a legacy in this thing I've created'.
Covid has also altered our perspectives on many different aspects of work, and succession planning is no exception. Despite it being 'hard to judge in current circumstances', some have 'enjoyed the space away from everyone to think about it'. And the benefits of co-leadership have emerged clearly in response to emergency: 'dividing roles, all pulling from the front, lifting that weight'­. Ultimately, though, 'leaders still play this nodal role in organisations – we carry that burden in a way probably no one else does', and actually there can be a sense of 'satisfaction to be in it for the long haul'.
---
Are you leading in uncertainty?
Join us for some time to pause, reflect and share, connecting with other charity leaders who are adapting to and coping with prolonged uncertainty.
We provide free and facilitated peer support sessions for voluntary and community sector leaders to share what's front of mind in the current context of sustained uncertainty. During these online sessions, we are listening – so we can learn about and make sense of the live challenges leaders are facing, and help funders to understand how they can best respond.