Welcome to IVAR. We are an independent charity that works closely with people and organisations striving for social change. From the very small that directly support the most vulnerable in their local communities, to those that work nationally – across the voluntary, public and funding sectors.


We use research to develop practical responses to the challenges faced and create opportunities for people to learn from our findings. This site is home to our bank of research and resources, providing insights that can help organisations adapt to change and make informed and confident decisions.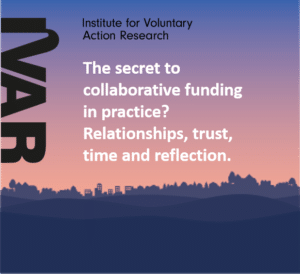 06 October 2017
The secret to collaborative funding in practice? Relationships, trust, time and reflection.
To celebrate the publication of our new research on working collaboratively in place, we asked some of the people who took part in our case studies what advice they would give to other organisations embarking on cross-sector partnership working in a particular geography.
read more
02 October 2017
Council and Funder Collaboration: Islington's story
Cripplegate Foundation is deeply rooted in Islington. Our history here goes back more than 500 years, and we exist to benefit Islington residents. As a place-based funder we value the knowledge and relationships we are able to develop in our area. There is no better example of this than the collaboration that has grown with Islington Council.
read more