Farland Way Big Lunch case study
The Big Lunch is an annual event held on the first weekend of June in streets and green spaces around the UK. The Big Lunch events collectively bring millions of people together to share a meal with their neighbours and get to know their community. In 2021 IVAR was commissioned by Eden Project Communities to research the legacy of The Big Lunch programme and explore to what extent it achieved community connectivity.
Communities involved in the Big Lunch differ in size, make-up and their existing levels of cohesion, so it's no surprise that their approaches, activities and results vary. Yet, from this work, we've come to better understand the role and lasting impact of coordinated activity in nurturing ties within a local area – regardless of their starting point.
In this case study, we focus on Farland Way, a residential area in North-West Derry in Northern Ireland, and reflect on some of the positive changes the Big Lunch events have contributed to their local community. We worked alongside Margaret Cunningham, Lead Organiser, who tells their story and helps to bring the learning to life.
Katie Turner, Head of Research at IVAR
About Margaret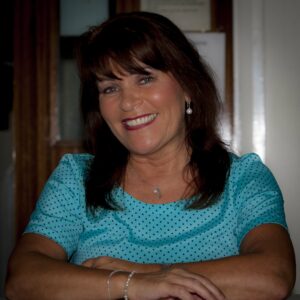 Margaret Cunningham has been a lead organiser of the Farland Way Big Lunch since 2014. Margaret has strong ties to Farland Way, as she was already a resident and is based there for her work in community development as the Community Assistant at the Habinteg Housing Association.
Farland Way could be described as a 'forgotten area' due to its lower profile and the hidden nature of its deprivation. But families have lived here for generations, so we have a strong community spirit with residents of all ages, and people look out for one another.
The streets and houses that make up Farland Way were built over 30 years ago by Habinteg Housing Association, with a centralised community room and a community garden nestled behind it. Yet we've found that the layout of four cul-de-sacs running off a main road can make it hard for people (especially newcomers) to get to know people beyond their immediate neighbours – and this can be isolating. The only space where we could gather as a whole community was the community room, but this was reliant on whether there were any services and activities running and if residents could access them.
This is where the Big Lunch comes in. It quickly became a calendar highlight for residents to make lasting connections beyond their circles:
'I would 100% say that the Big Lunch has certainly brought the place together even more so as a community'

Local charity partner
'It was a great feeling with everyone together, eating and tasting healthy food and having a good craic'

Co-organiser of Farland Way Big Lunch
The Big Lunch is an opportunity to bring us all together to enjoy good food. Beyond the sharing and celebration of food, it really is about inclusivity, connection and learning for us:
'A true society acknowledges everybody and there is always a place at the table'

Local charity partner
'A feeling of connectedness, belonging and pride'

Co-organiser of Farland Way Big Lunch
The activity of eating together naturally lends itself to our community talking about wider questions of food production, the environment and our impact on it, as well as celebrate and learn about different cultures. The themes we've held over the years have reflected this, with each organiser bringing their own expertise and passion to the day.
One example includes when we ran the 'Welcome to our World' lunch with food and activities from around the world. This reflected the different countries of origin of people from the wider Derry community. And for the eco-friendly Big Lunch, people brought homemade food. It wasn't all about healthy eating, but people bringing and sharing what they would eat at home.
From the very first Farland Way Big Lunch in 2014, the residents that attended our events got to know even more neighbours by working together and leading a host of different activities, like making puddings, putting out chairs, or making the tea. Bringing neighbours together to work on the event began to make connections between those that had fewer opportunities to interact due to the physical set-up of our community, and to encourage long-lasting friendships where residents check in on one another.
A key route to bringing people in has been through engaging the children in our community – because if you've got children in an area, you can then engage the parents. What's more, it provided opportunities for children to learn and have fun, with Big Lunch events introducing them to singing and dancing from different cultures, as well as encouraging them to keep the area clean and tidy by providing gloves, bags and certificates through "Live Here Love Here, Keep Northern Ireland Beautiful". The Big Lunch has embedded the importance of community, as well as enabled links between generations.
The 2022 Big Lunch was particularly special to us because we could all come back together in person after two years due to Covid. The theme was "Away with the Fairies at a Farland Away" which saw adults and children dressing up and creating a magical atmosphere enjoyed by young and old. We did dancing, face painting, storytelling, colourful displays, colourful characters and even performed a song especially written for the event about the Farland Fairies. There are now so many skills being nurtured within the area as a result and it's wonderful to see the confidence grow amongst our residents. This year was inspiring and uplifting because the event was marked by Loneliness Week (13 – 17 June): a week to raise awareness of loneliness and support those experiencing it. The Big Lunch is all about connecting communities and celebrating what makes them great, and this year saw everyone come together and do their little bit to make it such a success.
Leading to other initiatives
The Big Lunch has been a catalyst for creating stronger community cohesion for us. Residents are doing more things together, leading to further action to improve the community like the vertical garden which has all been done by local residents:
'If we're all stepping in the same direction, big changes can be made'

Local charity partner
The Farland Way Big Lunch has been a valuable way to develop and strengthen partnerships in our community. We've worked with organisations such as Zero Waste, Pink Ladies Cancer Support Group (to share information about diet and toxic chemicals) and Farm Garden to run activities prior to the lunch and see them continue beyond the day itself. For example, following one Big Lunch event, the community garden was divided into areas where children and young people could continue to come back to work on different things, like seed growing and making wellington boots into plant pots. It gave the children a bit of responsibility and ownership, and they're coming back every week: counting plants and developing other skills that they wouldn't have thought about before.
For the 2022 'Away with the fairies' lunch, we gave rocks to the children to paint – initially to create a yellow brick road. However, people started to write on them. One child had lost her grandmother, so she wrote 'My granny is an angel' and someone else wrote 'love'. It turned into something quite spectacular. We exhibited the rocks that the children had painted as a fairy garden in the community garden which families and children could visit.
The Big Lunch as a helpful motivator!
We've found it helpful to develop community connectivity through a wider national programme such as the Big Lunch. It has given me the confidence and brought that element out of me that I didn't really realise was there. Due to the support, resources and tips provided by Eden Project Communities to support people to host a Big Lunch, organisers – like me – can grow their skills and confidence in delivering community activities and supporting positive changes to happen in our communities.