Sparking place-based connections: Learning from The Big Lunch
As in-person events recommence, communities are refamiliarising themselves with the importance and benefits of bringing people together: adopting a place-based approach to engage residents and promote community-led change.
One example is The Big Lunch: an annual event held on the first weekend of June in streets and green spaces around the UK. The Big Lunch events collectively bring millions of people together to share a meal with their neighbours and get to know their community. The ambition of the programme is to stimulate, encourage and celebrate local social relationships and connections to increase social cohesion and build social capital. In 2021 IVAR was commissioned by Eden Project to research the legacy of The Big Lunch programme and to explore to what extent The Big Lunch events did achieve community connectivity.
In this blog, we summarise our learning to showcase some of the benefits of The Big Lunch events and to support organisers who are thinking about holding community events of their own.
The individuals hosting The Big Lunch define the 'place' – it can be as small as a BBQ in a garden or street, or as large as an area of a city. Either way, The Big Lunch is framed as an opportunity to strengthen existing connections or to forge new ones, often between different individuals and groups with less opportunities to interact.
The Big Lunch operates on food being a key mechanism to bring people together:
Food … naturally brings us together, as human beings, to give us that wellbeing and resilience. At the same time it can unlock that conversation about your place and where the issues are, and where the opportunities are.'

Local partner
The events connect people to their local place in various ways: encouraging them to see it in a new and often more positive light, as well as draw attention to what needs to be done, e.g. where buildings need repainting, rubbish needs clearing, or planting new flower beds.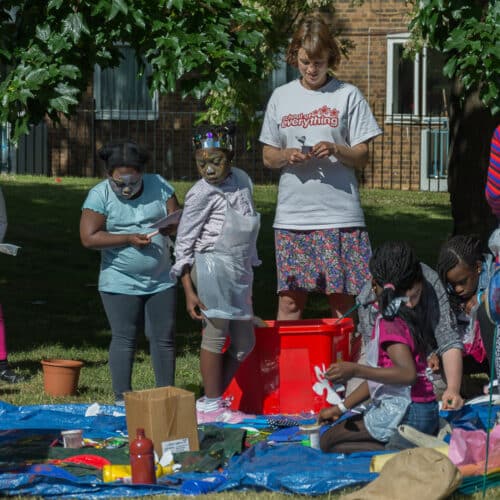 There's that sense of rebuilding and regenerating the area … The Big Lunch can be triggering that as well as changing people's mindsets … we can help change the narrative … It's also a way of … moving away from our individual, isolationist behaviour … but knowing that you can just go back in your friend zone 80 yards away.'

Co-organiser
The Big Lunch provides an accessible and inclusive starting point for people to meet one another and find out more about their local area and opportunities to get involved in their community. Big Lunch events are often used as a deliberate tool to tackle and overcome local divisions or a lack of cohesion by ensuring the inclusion and engagement of groups with different ages, cultures and interests. Organisers encourage diversity among activity leaders, promoting their autonomy and inspiring collective ownership over the day.
Community events provide an opportunity for people to develop their skills and expertise for community benefit. In particular, Big Lunch events provide a safe and inclusive space to practise community leadership skills, such as how to work with and draw on the community to hold an event and how to create spaces for dialogue. Community participation has extended beyond Big Lunch events, with many people going on to volunteer and participate in other local activities. This has a cumulative, long-term effect on the wellbeing of a place, as people take greater pride in their local area and so continue to invest in its improvement.
Thinking about your own community events
Tips for holding a community event:
Keep it simple and be sensitive to volunteers
Be responsive to local needs and interests
Consider how to make the event inclusive to all
Have a backup plan
Remember the power of a collective
Link to a national campaign, where possible
Keep it simple and be sensitive to volunteers
Try not to overcomplicate organising by thinking of easy options for the venue, timings, and types of activities that are held. Consider the time and energy it requires of people, so avoid over-organising or demanding too much.
Be responsive to local needs and interests
Talking and listening to the local community about the needs and interests will help make it appealing to local people and encourage community-led change.
Consider how to make the event inclusive to all
Think carefully about the venue and physical space, providing free or affordable food and holding activities that appeal to different ages and cultural interests.
Have a backup plan
e.g. if it is an outdoor event and it rains.
Remember the power of a collective
Consider how you will mobilise and sustain volunteers: by sharing responsibilities and workload, and drawing on and valuing different peoples' skills, interests and expertise, empowering volunteers to engage in a meaningful way.
Link to a national campaign, where possible
Tying it to a national campaign or moment can be helpful to build energy. National campaigns also provide useful resources for community organisers.
Holding a community event is a positive way to build a sense of pride in an area which can lead to community-led action. Research has argued how place-based approaches can unlock the potential of communities to meaningfully address social justice issues. While there are lots of benefits, it is important to not romanticise taking a place-based approach to holding community events as place-based approaches can have their challenges.