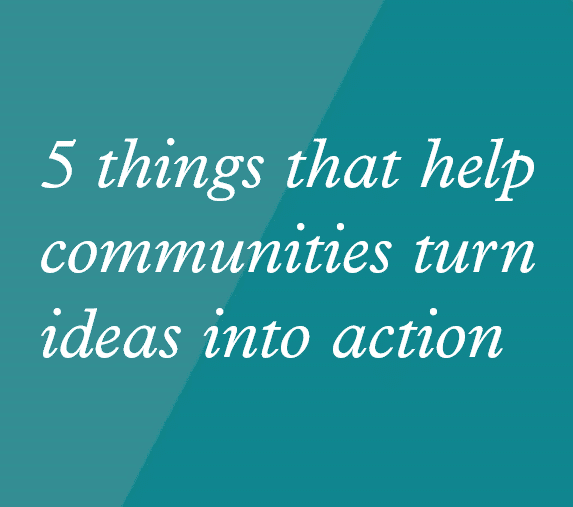 5 things that help communities turn ideas into action
Totally Socially is an excellent example of how local infrastructure organisations are supporting voluntary and community groups to thrive.
The programme's four dedicated outreach workers provide responsive and regular support to communities at different stages of bringing their ideas to life. They help people find solutions to the challenges their communities face, by talking and listening to people and getting to know what makes their communities tick. Most importantly, they always let the communities take the lead.
I recently had the pleasure of carrying out a mid-term review of Totally Socially, and identified five things that help if you are supporting community groups to turn ideas into action:
Relationships
Starting where people are
Supporting adaptation
Spreading the word and sharing ideas
Practical support
1. Relationships
Build strong relationships by being reliable, nimble, flexible and approachable. Nurture strengths without overstepping.
'We could have done it on our own but it would have taken forever, we trusted [our Totally Socially worker].'
The relationship with the Totally Socially workers is central to the support provided. They have an 'open door' approach, they move quickly to find a way to speed things up or unblock a problem, and show how to do things without doing those things for the group or person. People were not put under pressure, but encouraged to draw on their strengths. The workers' ability to be nimble and reliable has meant a lot to people and has built strong and lasting relationships. This dual approach of drawing out what is already there in a person or group, and complementing that with some quick wins to move things along has been very effective.
2. Starting where people are
Build on what is already happening. Take a mentoring role to reassure and build confidence.
'It's about helping people to help themselves – not doing it for them. So valuing their ideas with local people driving the agenda so the ideas are more likely to last'.
The support approach used by Totally Socially Workers is in itself unusual for participants. Words used to describe the worker's approach were: 'mentoring', 'coproduction', 'working alongside', 'reassuring' and 'building confidence'. There was a marked lack of hierarchy in the way workers thought of themselves, describing it as a peer relationship, with a two-way flow of knowledge.
3. Supporting adaptation
Remain adaptable to need and level of support.
'They believed the ideas would work, I have the skill base to do it but not the business knowledge – having these people around with their honesty and ambition [is] very positive… They support you to fail positively through the process.'
Fundamental to the support is adaptation. This runs through everything, workers gauge the type and level of support needed, and tailor it, deciding whether to take a light-touch or hands-on approach. Three features of this support to adapt emerged, i) there will be a way, ii) keeping an eye on things, iii) failing forward.
4. Spreading the word and sharing ideas
Get out into the community and use networks to get the message out for the community groups.
'I didn't realise how much help they could give us and contacts to make a good event – they even helped me with a printing company for a poster to promote an event'
Totally Socially place themselves in community spaces, i.e. libraries and cafes, they talk to people on the street, in family spaces and where people live. They supported with publicity – via social media, getting groups connected and providing advertising and media coverage for organisations and groups. All have noticeably increased numbers of those interested and taking part in community activities.
5. Practical support
Don't underestimate the value of being hands on and offering practical support.
'Initially Totally Socially were providing refreshments and now I have the confidence to approach local cafes directly and ask them to support us'
Practical support was invaluable – helping with event refreshments, recruiting volunteers, offering advice on how to attract funding. The organisations valued how locally connected and available/on hand the workers were.
Totally Socially is run by Coast and Vale Community Action (CAVCA) and funded by the National Lottery Community Fund. You can read the full mid-term review of the programme here.