Charities do not expect an easy ride from funders. They know funding is highly competitive and that they need to make a good case for support.
However, what is frustrating for charities is when funders' requirements feel too onerous, especially for the value of the grants on offer; when application processes do not give them a chance to make their best case; and when application forms are cumbersome and clunky.
While the experiences of participating grantmakers – and the charities they fund – are far from uniform, our research 'Let charities shine' looks at six principles for more open and trusting funding application and assessment processes that can guide foundations.
Principles for open and trusting application and assessments
The six principles
Don't waste time: Be honest about priorities and prospects
Accept risk: Challenge established assumptions
Create a chance for charities to shine
Ask relevant questions: Streamline application forms
Pay attention to how the process feels
Encourage meaningful feedback and act on this learning
1. Don't waste time: Be honest about priorities and prospects
Have a conversation with prospective applicants early and be honest about their chances. If you're unlikely to fund them: tell them. It helps charities to make informed judgements about the best possible use of their fundraising capacity and makes a huge difference to the quality of applications you will receive.
2. Accept risk: Challenge established assumptions
Without a willingness to challenge common assumptions and definitions of risk, charities with 'fewer credentials and less reputation' will continue to be excluded.
Careful interrogation of risk – the information needed to manage it and a better understanding of 'risk' from the charity perspective – while being transparent about your thinking, will help ensure applications are streamlined and considerate of the charity experience.
3. Create a chance for charities to shine
Focus on drawing out the strengths of an organisation and its work in ways that don't make it difficult or time-consuming to engage. Consider asking questions that help organisations think and develop the best programme possible, and allowing them to use tools and methods that best suit their expression and communication style.
4. Ask relevant questions to streamline application forms
Don't ask charities to supply information that is not essential or can be easily found independently, to free charities up to focus on delivering for their communities.
5. Pay attention to how the process feels 
Be attuned to how it feels to go through the application process. Always be open and honest by telling people what's needed, and be clear about the relationship and how it changes through the process. When giving bad news, recognise the thought and effort that went into making the application in your rejection. It's easier for charities to manage relationships if there's no second guessing on where they stand.
6. Encourage meaningful feedback and act on this learning
Regularly ask partners for their feedback so you can adapt your application processes accordingly. Acting on feedback helps to improve the application and assessment process and shows respect for charities' views. Open the door for existing grantees to be part of the grant-making conversation. Ask them to nominate relevant organisations in their network or feed in their expertise and knowledge of the community.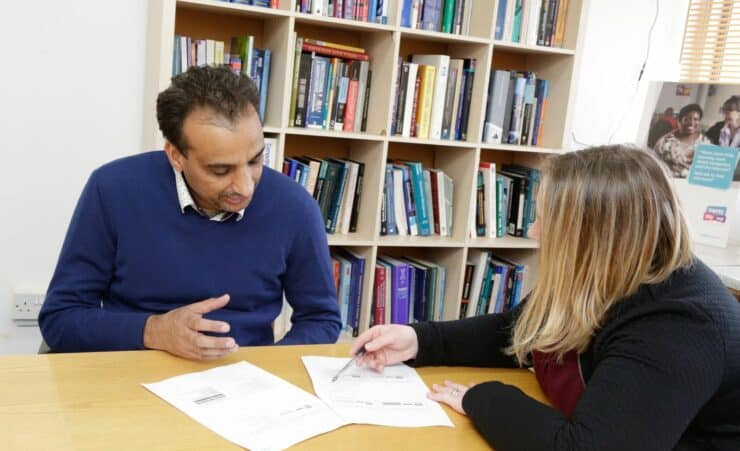 The Blue Thread small grants enquiry form
Applications and assessments resources
Read more
Publication
Sometimes funders make you feel like you are begging. But [an open and trusting grantmaker we worked with] said, "Come on board with us as a partner and you deliver the work and we support you". It's the equality of the partnership that I appreciate.
Funders need to redefine the way they think about risks. I think that the conversation should be more about safeguarding beneficiaries rather than risk to money or to the funder.
Funders should be more upfront about what they will and won't fund and be clearer about the chances of receiving funding. Let's have a phone call and, if I don't have over 85% prospect of success, just tell me at the initial stage. Rather than wasting effort in terms of completing an application, if they were more open and say "yes, this is something we are unlikely to fund", it would make things easier for us.
Funders just need to know that it's the wisdom of asking the right questions – ones that help organisations think and develop the best programmes possible in a way that doesn't make it incredibly difficult and time consuming. That's the sweet spot.
You may also be interested in…
With thanks to Help on Your Doorstep, Care for Children and Cambodian Children's Trust who provided imagery used on this webpage.
whois: Andy White Freelance WordPress Developer London