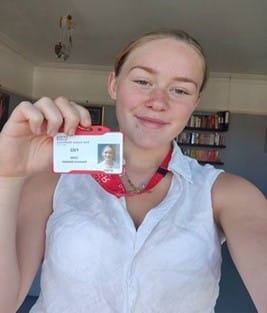 'We need support, opportunities and inspiration'
Youth volunteering in hospitals
June 2020
Blogs
Fizz McNally, a volunteer at East Sussex Healthcare NHS Trust:
'I'm Fizz, I'm 19 and I'm a young volunteer in for East Sussex Healthcare NHS Trust.
I currently volunteer as a chemical pathology lab assistant and I do pre-analytics, so I check samples before they get loaded onto the machines which run the tests. I chose to volunteer initially as I wanted to help the healthcare service amid the COVID-19 crisis. I've always loved science and so I knew helping out in the pathology labs would be perfect for me.
Sometimes it can feel like I'm not making much of a difference as I don't ever see any patients and I rarely read about people's conditions or reasons for requiring a test. However, every now and then I'll realize that every sample I see has come from a person with a unique life and a unique problem who needs this test to help them. So, I do what I can with my role to try and help them get those test results more accurate and faster.
I'm going to medical school in October so I'm really enjoying being part of and understanding more about a hospital and how one works. I feel that learning about what happens behind the scenes in the complex process of testing will be invaluable to me in the future. I enjoy understanding a little bit more every week of this complicated system.  Couriers, communication with GP practices, Quality Control, Machine maintenance and so much more is required for a functioning pathology department.
Most importantly I'm part of an amazing team and everyone who works there regularly has taken me under their wing to help me out and teach me new things about science, processes and the system. I've learnt good workplace dynamics and the positive energy shared by fantastic role models in the department. It's always interesting to hear their stories about their work events and how changes in the NHS have affected their work in the pathology department. COVID has hugely changed the type and volume of work that we do and the antibody tests coming in soon will cause another big dynamic shift.
I think it's really important to have young people volunteering in the NHS and it has helped me to consider my options for my career. I didn't even know how many jobs there were to do in the pathology department let alone the whole hospital! I feel that I am part of something BIG. The feeling of solidarity in hospitals is tangible with everything that's going on and it's been really incredible to be a part of that. I know it's a cliché, but it feels good to do good!! – whether I'm part of a huge change or just helping out a little bit day by day, I feel so much better than doing nothing at all!
I believe that we need young people engaged in our communities and not to be discounted as a generation that's technology obsessed and lacks perspective. We are an incredibly driven and passionate generation that can do a world of good and social media is our ''superpower'' To unleash our potential we need support, opportunities and inspiration to volunteer.'
You can find resources for setting up youth volunteering in your hospital here. They have bee collated from 30 NHS Trusts and their respective charities, who have been welcoming young volunteers since early 2018. 
Back to results