Terminology
Terminology
Social change is a very broad term for transformation (large or small) in parts of, or across, a given society or group. In a series of studies with smaller, social welfare voluntary organisations, we understood social change to be a positive improvement in the social order that increases the common good (understood very locally as well as nationally). Examples of social change would be where an organisation/individual is concerned about the causes as well as the presenting 'problem' and is prepared to initiate solutions or steps to solutions.
Over a series of research and evaluation projects, we have been learning about the different ways local voluntary organisations work to achieve social change. These organisations have between five and 15 members of staff; 15 – 30 income streams; and turnovers of around £200-£500,000 per annum. For some, social change takes the form of advocacy for individuals; for others, it involves campaigning.


Through this work, we have been able to understand more about the organisations themselves, their approach to social change, and what helps and hinders their work.
Social change


Understanding problems
& finding solutions for the common good.

1/7
Characteristics of voluntary organisations that work for social change
Direct work with people facing disadvantage

Small and local – based in the community

Strong leadership

Volunteer support

Distinctive values and ethos

Operating in a challenging environment

2/7
Direct work with people facing disadvantage
'We are not restricting people to timescales, not giving a treatment. Change takes time and we work over time. Clients will come and engage, they may drop off but then re-engage and can pick up where they left off.'

3/9
Small & local – based in the community
'This work pulls you in. The families are not just numbers, we create relationships and you feel a sense of responsibility.'

4/7
Strong leadership
'We have to be strategic and decide not to do some things.'

5/7
Volunteer support
'There are more volunteers than staff – volunteers have always been at the heart of the work we do. It's not just done to save money – it's part of our work.'

6/7
Distinctive values & ethos

'The hunger for the struggle. We want to change the world!'
'The purpose is to give opportunities for people to overcome exclusion. It is not something we are doing to people – we are providing opportunities.'

7/7
Operating in a challenging environment
'We're taking more complicated referrals.'
'Statutory bodies deliver less than they were.'
/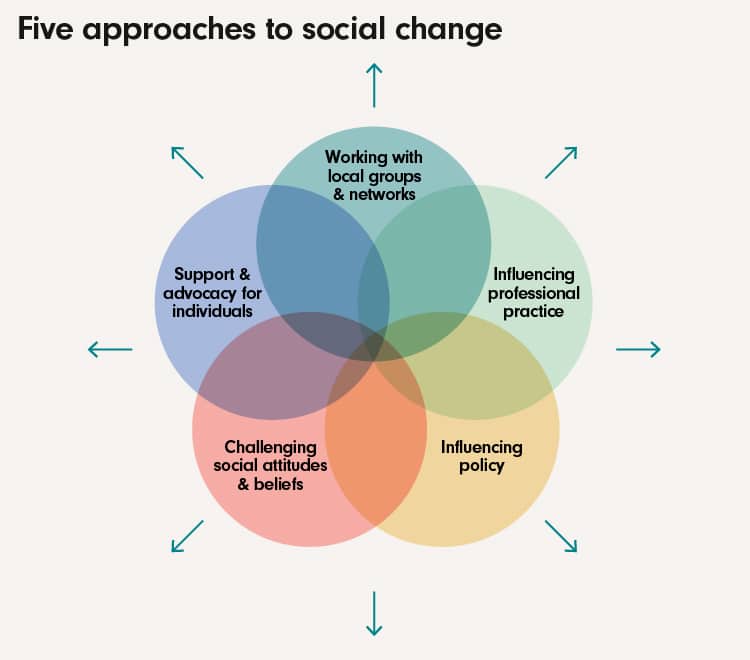 1/5
Support & advocacy for individuals
'At the core of it is helping people do things for themselves. There are structural barriers which impinge on individual ability to get on with their lives. We can't change all the big things but we can change the small things.'

2/5
Working with local groups & networks
'With people from such diverse backgrounds it's about sharing what we know so other providers can understand clients' needs, such as health and housing providers.'

3/5
Influencing professional practice
'We're involved in local policy and legislation. So I am part of the training board – so we are deciding on guidelines notes on neglect for all agencies in the county. We've set up a practice board where any practitioner working with a child can look at services being provided and identify gaps.'

4/5
Influencing policy
'We do it in various ways. Feeding back to local and national policy, we tweet, share, do research with the police, do consultations. We have contact with the MP who told us to write a report. We write articles for the local paper, do training for GPs, aim to get the Clinical Commissioning Group aware, and do training for the police.'

5/5
Challenging social attitudes & beliefs
'I hope it contributes to a wider understanding in society – it can create a change in people's knowledge. So there are two benefits: to the families who are supported but it also contradicts the scrounger image – the "them and us" idea.'
Social change – what helps?
Relationship of trust with local people:

'Starting where people are.'

Change work is indistinguishable from practice work:

'Service or advocacy? It's both.'

Synergy between campaigns and casework:

Policy and campaign priorities largely dictated by issues emerging from client feedback.

Strong senior staff with capacity:

The time and space to attend meetings and speak out, in order to influence networks, coalitions and policy.

Independence:

The importance of a degree of independence in funding, in order to speak out about local public sector policy issues.

Communication:

Being able to articulate their social change role, by thinking about where on the spectrum of social change work they are best placed to focus.
Social change – what hinders?
Welfare cuts and austerity measures:

The work itself is demanding enough without tackling wider issues.
Lack of power:

Example – An urban organisation working with families in poverty struggles to get people to feel they have power over their lives or that they matter to those in authority. The area is often targeted for initiatives that are short-lived with little real long-term impact. Even longer-term resources such as the area's Community Centre have recently closed down as a result of council cuts. One staff member described how local people feel 'surveyed and piloted out', and therefore wary of attempts to change things.

Negative media portrayal:

For example, people on benefits and immigrants creates divisions in communities and stigmatises individuals, making it harder to build social cohesion.

Challenges in rural areas:

The time consuming nature of attending meetings and related lack of access to networks and power can make it difficult to exert influence at more than an individual or family level.

Articulating the impact of social change work:

'We make a lot of change. I know because I see it in the families. I see the staff. The work is preventative so it is very hard to say what effects it had – if you see a family – like a train crash about to happen … it is not easy because you're saying you stopped what would have happened.'