Bringing together VCFSEs and PCNs
Resources developed through Lancashire and South Cumbria's test, learn and review initiative
With special thanks
This page provid
es
starting points and inspiration
for Primary Care Networks (PCN) looking to work in collaboration with the voluntary, community, faith
and 
social enterprise sector (VCFSE).
Resources

are

based on our work

as a learning partner to

the Lancashire and South Cumbria Integrated Care System

,

to create and sustain meaningful connections in hyper-local, cross-sector partnerships, as part of the

ir

test, learn and review initiative.
Build a picture of the ingredients that are needed – almost like a blueprint for effectiveness, drawn from what is working already and then adapting the model.
IVAR was commissioned to be a Learning Partner to the Lancashire and South Cumbria Integrated Care System, alongside voluntary, community, faith and social enterprise sector (VCFSE) partners and Primary Care Networks (PCNs) in five areas, namely Central Lancashire, Pennine, Blackpool Wyre & Fylde, West Lancashire and Morecombe Bay/South Cumbria to facilitate emerging learning across a range of partners as part of their test, learn & review initiative.
The aim was to harness local leadership by bringing together
VCFSE

partners and PCN

s

– to maximise the potential of communities and to deliver improved health outcomes for local people. This in the context of the changing role of commissioning with a more community-centred focus, in a future Integrated Care System (ICS).
For more information on the local areas, please click on the links below:
We've identified nine puzzle pieces for creating connections that enable meaningful collaboration. More details can be found by clicking the drop-down 'the pieces in detail'.
How to build an effective partnership
1. Share resources
Think about what can be achieved if, often individually limited, resources are shared across the entire system. How could you approach this?
4. Shared leadership
Explore connections with relevant work that encourages shared leadership at the neighbourhood and Integrated Care Partnership level.
7. Infrastructure
Demystify your infrastructure to ensure all partners understand each other's set-ups; and recognise that collaboration needs to be resourced.
2. Roles
Understand your individual and collective roles in the local and wider systems, and what 'working together' means.
5. Acknowledge differences
Take a ground-up approach that acknowledges differences in local populations, and introduce clear structures for partnership working to sustain collaboration. 
8. Language 
Establish a common language — the word 'partner' might mean different things to different people. 
3. Collaborative champions
Identify individuals who will step across organisational boundaries and seek opportunities for meaningful collaboration.
6. Nurture relationships 
Take time to step back and work on relationships with partners to ensure you aren't making unhelpful assumptions or creating barriers.
9. Reach
Appreciate and evaluate how the partnership has allowed you to extend your reach and better support local people.
We hope the learning from Lancashire and South Cumbria's test, learn and review initiative inspires your thinking around collaborative working. Insights were drawn from the day-to-day working of committed cross-sector leaders across the Integrated Care System, who openly and honestly shared their highs and lows, and their successes and challenges, of collaboration. From listening to and working alongside partners, we have been able to purposefully design a collection of resources that applies to any stage of joint-action – from first steps to strengthening partnerships.
20 July 2021
What good looks like: Example of cross-sector working in Pennine
Angela Allen, Elaine Barker, Tim Birch, Christine Blythe, Andrea Dixon, Vicky Shepherd
read more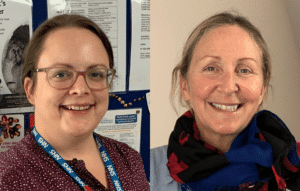 12 October 2020
How we set up a social prescribing service during lockdown
Deborah La Gette & Louise Peacock | Social Prescribing Link Workers - Lytham St Anne's Primary Care Network
read more