Terminology
Terminology

Place-based approaches:

We use the term to mean targeted investment in defined geographic areas. This is usually a package of support – for example: multiple grants; particularly large investments; grants and additional funding plus activity (capacity building, networking, influencing activity) – within a defined place.
We have chosen to explore place-based funding approaches because of:

Growing recognition amongst funders that the issues they wish to address – particularly in the most disadvantaged areas – are multi-faceted, and that place-based approaches might be one way of delivering more holistic support.



Wider debates and discussion about the role of independent funding in light of policy shifts and the economy, for example reductions in statutory funding, welfare changes and a move towards devolution/localism and away from EU membership.
1/3
Developing a framework for action
In 2015, we undertook a study of place-based approaches. The research aimed to shed light on the place-based approaches used by UK trusts and foundations and identify learning about the pitfalls and successes of these approaches. Out of this, and other work around place, we have developed a framework for place-based approaches to support funders in their planning and implementation.
2/3
Who is it for?
Staff and trustees at charitable trusts and foundations who have responsibility for making strategic decisions about funding approaches or who are leading the delivery of a place-based programme. Community foundations and local funders may also find the framework useful.
3/3
What is it for?
The framework is simply a way of organising a conversation when planning or reviewing place-based work in order to: 
Help surface assumptions and different opinions when working with multiple partners

Provide a structure or checklist for use when planning an approach or reflecting on progress

Support the sharing of thinking and improving transparency
The purpose is not to identify good or bad practice but rather to provide a prompt for discussions, helping funders to consider key questions about place-based approaches
Page source
Page source
This page and the Working in Place publications are based on:
A literature review of place-based approaches in the UK 
Interviews with 50+ staff, trustees and partners at 21 UK trusts and foundations
Share & Build sessions with 70+ representatives of trusts, foundations and statutory funders at events organised with: ACF and ACF Northern Ireland; the Scottish Funder Forum; Yorkshire Grant Makers Forum; Wales Funder Forum; and London Funders.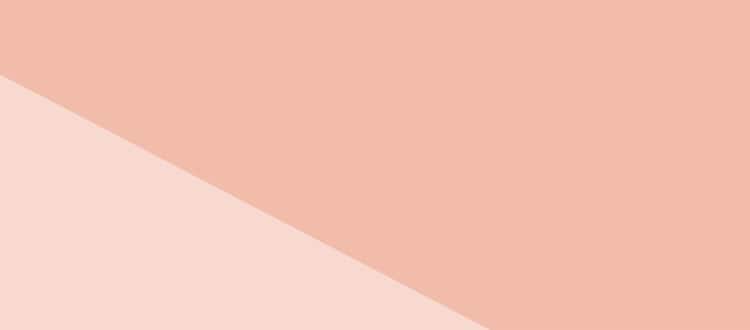 Download the full report & short framework summary to support thinking & discussion around funding in defined geographical areas.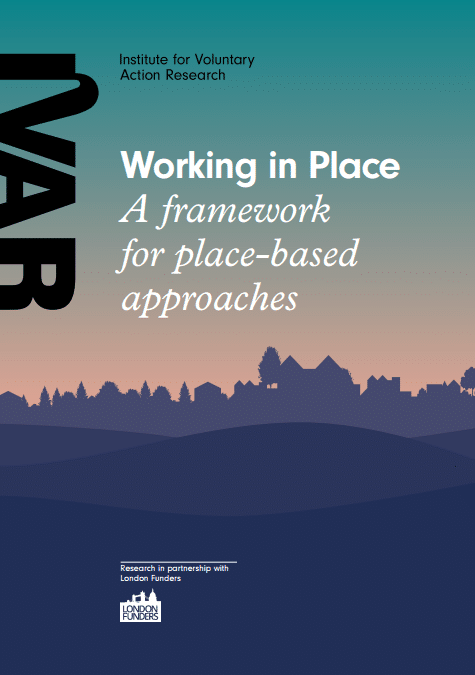 Research reports:
Working in Place
Eliza Buckley, Ben Cairns, Marilyn Taylor
Download the full, detailed framework for place-based approaches that includes practice examples and funder quotes.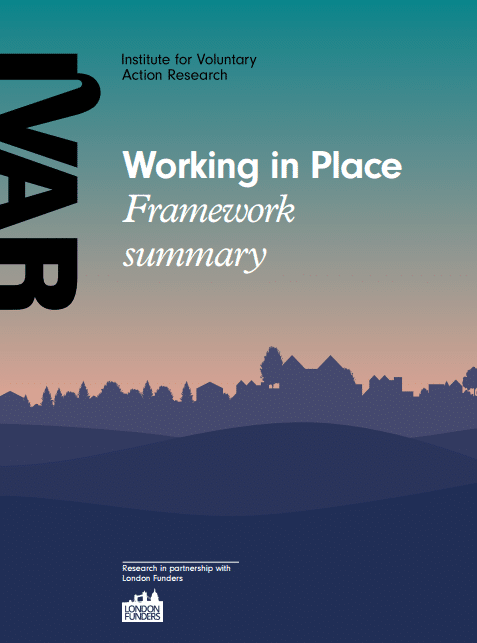 Publications:
Working in Place: Framework summary
Eliza Buckley, Marilyn Taylor, Ben Cairns
This short, practical framework can be used to support thinking and discussion around funding in place.
Story:
Share & build
Senior researcher, Eliza Buckley describes why share and build was a formative part of our approach.
After interviewing staff, trustees and partners at trusts and foundations, we analysed the data and arrived at what we thought might be a useful tool – a framework for funders working in place.


We wanted to test and develop the framework to make sure it was as useful as possible. To do this we consulted over 70 representatives of trusts, foundations and statutory funders at events organised with ACF and ACF Northern Ireland; the Scottish Funder Forum; Yorkshire Grant makers Forum; Wales Funder Forum; and London Funders. We shared early research findings and initial ideas for a framework, giving attendees the chance to try it out, adapt it, build it and critique it.


The result – we hope – is a more relevant and practical tool. Some of the conversations we had at these events have also built the case for the next phase of our place-based research – looking at examples of independent and statutory/public funders working together.
Scroll down for case studies
Participating funders
Big Lottery Fund 
Building Change Trust
City Bridge Trust 
Comic Relief
Community Foundation Tyne & Wear and Northumberland
Cripplegate Foundation
East End Community Foundation 
Esmée Fairbairn Foundation
Garfield Weston Foundation
Hackney CVS (Hackney Giving)
John Lyon's Charity
Joseph Rowntree Foundation
Lankelly Chase Foundation
Lloyds TSB Scotland
Local Trust
Quartet Community Foundation
The Rank Foundation
Sir George Martin Trust
Tudor Trust
UK Community Foundations
Wade's Charity
Attendees of share and build sessions

Association of Charitable Foundations (ACF)
ACF Northern Ireland
Bank of Scotland Foundation
BBC Children in Need
Big Lottery Fund
Big Lottery Fund Northern Ireland
Big Society Capital
Brelms Trust
Building Change Trust
Cardinal Hume Centre
Catch 22
Cattanach
Churches Conservation Trust
Comic Relief
Community Southwark
Cycling Scotland
East End Community Foundation
Edinburgh & Lothians Health Foundation
Faith in Community (Scotland)
Foundation Scotland
Go For It Fund
Hammersmith United Charities
Hyde Charitable Trust
Inclusion Barnet
Inspiring Scotland
John Lyon's Charity
Joseph Rowntree Foundation
Lankelly Chase
London Borough of: Barking and Dagenham, Barnet, Camden and Lewisham
Leeds Community Foundation
Letchworth Garden City Heritage Foundation
Life Changes Trust
Lloyds Bank Foundation for England and Wales
Lloyds TSB Foundation for Scotland
Local Giving
London's Giving
Metcalfe Smith Trust
Mollie Croysdale Charitable Trust
New Philanthropy Capital
Oak Philanthropy UK
Porticus UK
Richard Cloudesley's Charity
Richmond Parish Lands Charity
Scottish Government – Third Sector Division
Sir George Martin Trust
SLOG
Social Investment Scotland
Spice
Sportscotland
Wade's Charity
Walcot Foundation
West London Zone
Wharfedale Foundation