Thinking about… risk
Developing a framework
Supported by...

Supported by...
Increasingly, charities need funders to take more risks: to work with them to try new things, or stand by them in this climate of persistent turbulence. However, for funders, asking the question 'are we taking enough risk?' may require a deep look at current practice.


We have worked with five funders – of different scales, purposes and ways of working – to better understand the varied approaches grant makers take to risk. Together, we have developed a framework that helps funders consider their approach to different elements of risk, and we are looking for a group of funders to help us test it. 
Starting points 
We had three starting points for this study, which aimed to better understand the varied approaches grant makers take to risk. 
Balancing benefit and risk

Appetite for risk

The invisibility of risk
1. Balancing benefit and risk
Grant-making decisions can be understood as judgements about a balance between benefit and risk - the aim being to select applications that funders reasonably believe will make the biggest difference against their funding priorities, while being confident that the proposed work is achievable and that the funded organisation is capable of delivery. 
2. Appetite for risk
There can be a lack of alignment within trusts and foundations in terms of understanding 'what risk means to us' and how it is best measured and managed. Due diligence processes need to be proportionate to the size of the organisation being funded and the size of the grant.
3. The invisibility of risk
The invisibility of risk can produce processes and behaviours that are problematic to applicants and grantees - and that impede the flexibility and agility that the moment may call for. We saw a need for more trusts and foundations to move from a deficit to a strengths-based approach, placing greater emphasis on where potential lies to deliver a positive outcome and how to work with organisations to manage and live with risk.
Too much caution can narrow the range of people and organisations funded and what that funding can achieve.
Risk is not a static concept. A funder's risk tolerance will fluctuate over time and between different projects or programmes. Developing an understanding about how trusts and foundations manage their tolerance of risk is valuable both for operational staff and for potential applicants in presenting their case.
Appetite for risk relates strongly to organisational or programme purpose. However, our work suggests that, in practice, processes are not always aligned with ambition. Without explicit agreement about the approach to risk at a strategic level, and a clear vision of the potential rewards from risk, staff lack clear structures and authority to develop tailored processes. They may fall back on unnecessarily onerous requirements, designed to anticipate all possibilities.
Preoccupations with risk can loosely be categorised under at least four (often overlapping) headings:
Risk of project failure
Risk of fraud
Risk to reputation
Risk to mission (for example, from unnecessarily constraining a funder's ability to achieve its own aims and purposes through grant-making)
Risk needs to be looked at from a number of different angles. It is too often 'put into a box as a technical activity' and not considered in the light of, for example:
The consequences that risk avoidance mechanisms may have for strategy and purpose
What can realistically be achieved within foundation staff levels and application/grant volumes
The level of risk that foundations can responsibly transfer to charitable organisations
Failure to fully explore how strategic decisions about risk should play out in day-to-day practice leaves staff feeling exposed and reluctant to innovate. For example, a strategic decision to 'take more risk' does not in itself provide assurance to front-line staff about how their performance will be judged: 'Do trustees really know that we aren't going to ask as many questions? And what's going to happen when something goes wrong?'.
Critical analysis of how risk management or mitigation plays out in foundation processes provides a more meaningful basis for engaging with applicants and grantees to test their value and relevance. When foundations are clear about the purpose of a piece of due diligence or a grant management procedure in terms of risk mitigation, applicants and grantees are better able to comment critically on whether these actions are effective or whether they in fact make risk more likely to crystallise or feel inconsistent with the stated purposes of a grants programme.
As part of the study we created a framework to help foundations think about their approaches to risk. The framework was developed with our pilot group. The purpose of this framework is to help trusts and foundations to achieve greater clarity about the different aspects of opportunity and risk inherent in their strategies and aspirations. And to ensure that their application, assessment and decision-making practices accurately reflect this appetite, both across their portfolio and in individual programmes.
The framework suggests seven attitudes and aspirations that all tend to influence appetites for risk, while at the same time being critical to delivery of strategy. They also have a direct impact on how foundations frame application processes, make grant decisions, manage grants, and make judgements about effectiveness. The framework is designed as a bridge, creating greater alignment between strategy and practice by providing a structure for interrogating the balance to be achieved between 'the things we care about' (positive risk) and 'the things that we worry about' (risk mitigation). This enables challenges and inconsistencies to be ironed out before going on to the practical question about how risk is to be identified and managed day-to-day.
Each attitude or aspiration is plotted on a spectrum, enabling foundations to consider their position between two extremes. The spectrums do not automatically map onto a high/low risk continuum. Rather, the aim is to build a clear understanding of where the foundation, or a particular programme, sits on each spectrum. This provides a shared reference point in working out the detail of how best to manage risk in day-to-day practices – and what questions and processes can safely be set aside.
In making good use of the Risk Framework, the pilot group identified three important presumptions and pre-conditions:
Clarity of starting point: The framework assumes that the foundation has a clear strategy and values in place. It can then act as a conversation starter, reframing discussion about risk so that it looks at the range of judgements and considerations (both positive and negative) that underpin decisions about risk in relation to strategy and values.
Neutrality: The framework makes no assumptions about right or wrong in terms of where a foundation positions itself in relation to different types of risk. Rather, the question is: 'if this is our strategy, are we taking the right approach to risk?'. The challenge is to create real coherence between a foundation's values and strategy, its risk appetite and the way it works, and then to express this clearly to applicants and grantees.
A mixed approach: Foundations rarely have a single risk profile across all their different types of grant-making. In making the connection between strategic intent and day-to-day practice, the framework needs to be applied to each distinctive area of a foundation's work, so that the processes used to assess and manage grants are tailored to how risk is seen in these different areas, and not just applied in the same, or very similar, way across everything it does.
The framework encourages funders to think about risk in relation to: 


Attitude to innovation
Expertise
Clarity and certainty of outcome
Data
Capacity and capability
Financial risk
Public opinion
Publications:
Thinking about... risk: Developing a framework
Annie Caffyn, Ben Cairns, Liz Firth, Gilly Green, Richard Hopgood
We set out our initial findings from a study carried out in partnership with a pilot group of five funders into perceptions of risk and how these are managed and mitigated. We developed a framework that we are now inviting others to help us test.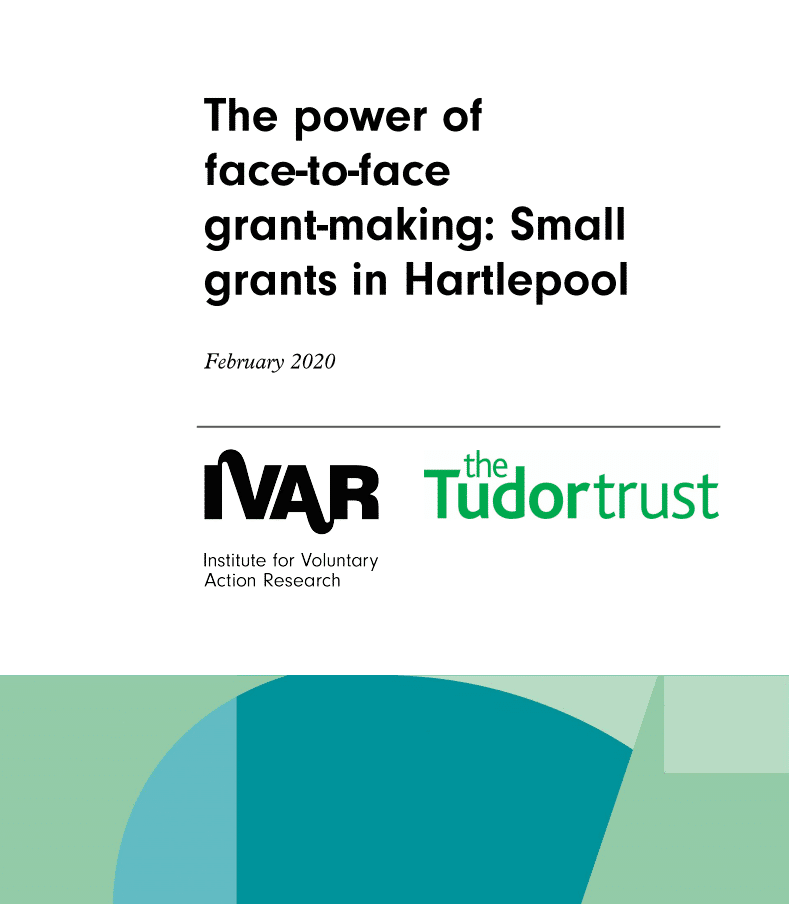 The chance to be honest with a funder means we can actually get it right.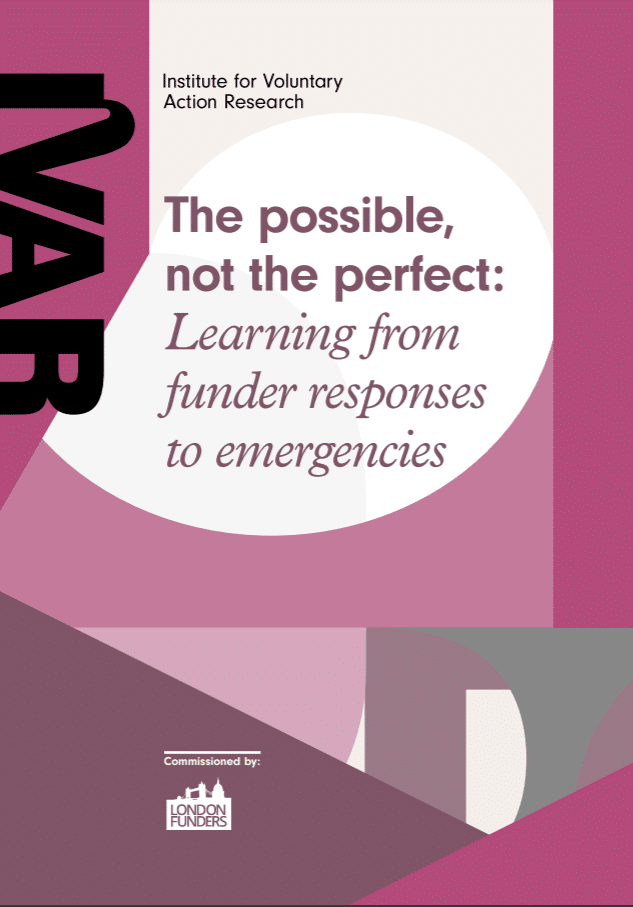 Research reports:
The possible, not the perfect
Ben Cairns, Liz Firth, Charlotte Hennessy
A set of principles to make grant reporting a shared, more meaningful and mutually beneficial experience.
By doing things differently, you expose how things are normally done.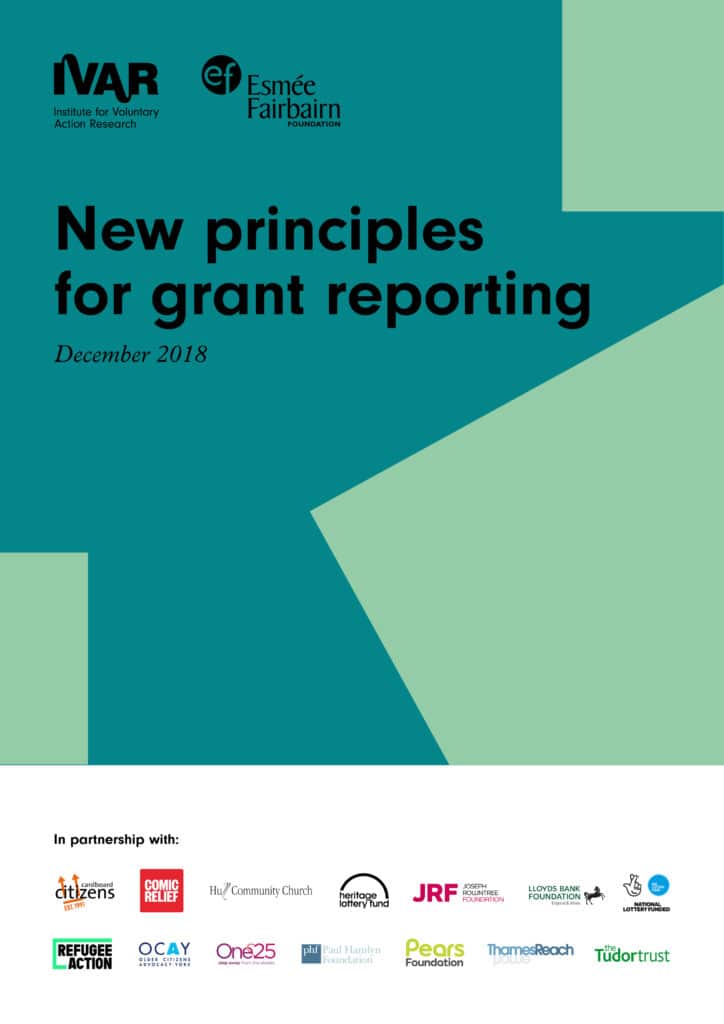 Grant reporting is broken. Can we fix it?