Source

Source
Drawn from our experience of running a number of large-scale programmes.
Developed and delivered in partnership with:
Funded by:
NHS England
Big Lottery Fund
Department of Health
The Building Health Partnerships (BHP) programme built relationships between the NHS, local government, citizens and voluntary, community and social enterprise (VCSE) organisations to facilitate joint action that improves health and care priorities.
With the NHS facing a series of well-known critical challenges, it is in desperate need of new care models that are sustainable and flexible to our changing society. 
Using action learning approaches, we supported tangible improvements to the design, commissioning and delivery of local health services.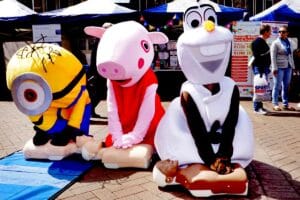 07 March 2019
Community Health Melas
Kevin Walsh | District Governor for Rotary Clubs throughout Cumbria and Lancashire 2013-14
The concept is simple; give people the opportunity to have a Health MOT in a friendly, safe environment and provide them with the advice required to make appropriate lifestyle choices. This provides a framework for the NHS and local government to work with volunteers around priorities highlighted in the NHS Long Term Plan – particularly around early diagnosis and prevention.
read more
The BHP programme is about facilitating a conversation between local people, VCSEs and public agencies. The process involves the following elements:
The 'steering group'. This is made up of people from all relevant sectors within the STP or ICS area. This group is central to the process. They help set the context for the facilitators, drive activity and model good ways of working. Making sure this group has the right membership is essential. It must include champions of collaborative working from the statutory and VCSE sectors.
Full partnership sessions. Half-day sessions, involving all interested parties within the STP area. They provide the space for people from different sectors to work together to design change to local health services and to develop joint action plans.
Independent facilitators from IVAR. The facilitator 'holds' the process. They develop an understanding of the context, and design partnership meetings that are spaces where multiple voices can be heard. They also organise agendas, troubleshoot and help build relationships and networks, drawing in new perspectives. Facilitators are experienced in bringing together multi-agency and multi-disciplinary groups of people to build consensus, solve dilemmas, implement plans, deliver training and develop strategy.
Leadership training. Cross-sector individuals from each area are invited to attend training, delivered by IVAR and The Kings Fund, in order to develop their skills, behaviours and attitudes to support local transformation. People attending can then take back what they have learned in order to champion this way of working, locally and nationally, and sow the seeds for further collaborative approaches. This enables individuals to play an ongoing role in transformation and influence and helps to create a legacy of collaboration in the BHP areas.
The NHS is facing a number of critical challenges including an ever-increasing population and people living longer, with more complex, long-term conditions. In this climate of changing health needs and stretched resources, multi-stakeholder partnerships at a community level are needed to develop new ways of working in order to find local solutions.
People's health is determined by a range of social, economic and environmental factors. For example, there is a clear correlation between poverty, poor health and early death. There is also evidence that links the amount of control people have over their lives with their and health and wellbeing. Health agencies are, therefore, increasingly interested in the role of prevention and partnership working. By listening to local people's concerns and increasing their confidence and skills in self care, and by fostering relationships between communities, health professionals and VCSE organisations, we can address people's needs in a more holistic way, tackle health inequalities and support individuals to take greater control of their own health.
In order to support people to stay well, for longer, in their communities we need to look together at the support people need alongside hospital and GP care. Community-centred and social prescribing approaches, as well as the role of VCSE organisations in delivering them, are increasingly being recognised as a way to address the wider factors that affect people's health and wellbeing.
Small VCSE organisations are often the first to respond to 'hyper-local' needs and provide spaces where people feel safe and respected. They tend to focus on general wellbeing and have been described by public sector stakeholders as 'the glue that holds communities together'. They are valued for having an 'open door approach that means people are not turned away'. However, evidence also points to a mismatch between what many small community organisations do (their distinctiveness and social value) and how many public and voluntary sector programmes are funded.
There are of course challenges on both sides to community-centred working. It is not easy to reach the most marginalised populations or to identify where your approach or organisational culture may need to change. There are also financial constraints and limitations of short-term projects and programmes. 
The NHS Five Year Forward View recognised the role VCSE organisations could play, in partnership with the NHS, to help deliver its vision. At a strategic level, NHS England is committed to working with VCSEs and establishing models for more equitable partnerships and better integration, and to increase the influence of the voice of patients. More locally, STPs, as with any relatively new player in a system, are taking time to build consistently high and constructive levels of engagement with VCSE organisations and communities more widely.  
The BHP programme was designed in response to all these challenges, to work intensively with statutory services to test and pilot new approaches to partnership working. Over the last year, the programme has run in eight STP areas, with learning being shared across England.
'We will work collaboratively with the voluntary sector and primary care to design a common approach to self care and social prescribing, including how to make it systematic and equitable.'


NHS England, Five Year Forward View
Further reading
It breaks the usual mould and enables a new and fresh dialogue between statutory organisations/services and the voluntary and community sector.'

VCSE organisation
Briefing papers:
Briefing One: Improving self care at a local level.
Are you interested in how STPs are working with the voluntary sector and local people to design health and care services? Do you want to know how self care is perceived at a local level? Or where to start with setting up partnership working?
What are the benefits?

Establish cross sector relationships, working together to overcome obstacles

Senior level appreciation and commitment to the VCSE offer

VCSEs become strategic partners with public agencies

Creates readiness for change and challenge – allowing ideas to be turned into action

A common language for talking about improvements to health and well-being

Co-designed, integrated, asset-based approaches that provide local solutions

Meets the health and well-being needs of local people more effectively
What factors make it work?
Timing:

The importance of seeing change as a process, rather than an event, allowing relationships to be built and ideas to be turned into action

Commitment and buy-in:

Senior level, cross sector, diverse involvement

Bespoke and independent facilitation:

A high level of support and access to experts and resources

Dual focus:

On relationship building as well as joint action

Not rushing into action:

Participants are grappling with complex, emerging structures and unfamiliar opportunities: for new, joint initiatives to have a chance of being useful and effective, the foundations (relationships, common ground, mutual understanding) will need to be in place
We definitely got in shape quicker and made more progress in a short space of time because of the programme."
What are the challenges?
Too many competing drivers and outcome frameworks for cross sector working e.g inconsistent approaches to integration and silo working

The voluntary sector is diverse: there are community links to tap into and expertise, but little capacity to engage and a high risk of duplication and overlap

A lack of opportunity to stand back, reflect and explore possibilities to tackle the difficult issues that block progress