Evaluation of impact of collaborative working on beneficiaries
Topline timings: October 2016 - March 2017
live_project
Commissioned by:
Building Change Trust
CollaborationNI was an independent support and advice service for voluntary organisations in Northern Ireland, funded by Building Change Trust. Its purpose was to support voluntary organisations wishing to collaborate, through advice and facilitation. We have been supporting this initiative, as advisers and then evaluators, since 2013.

The evaluation concluded that the professional, knowledgeable, independent and dedicated work of the CNI team was of extremely high quality and delivered significant value to voluntary and community organisations in Northern Ireland. In particular, CNI's support and guidance made a real difference to organisations' ability to collaborate meaningfully and productively.

One of the key drivers for collaboration identified in the evaluation was 'delivering better outcomes for beneficiaries', and our research found widespread agreement amongst organisations that collaborative working can improve services. However, service users themselves were not asked about their perceptions of how services had changed.

We have now been commissioned by Building Change Trust to extend our evaluation of CollaborationNI. This phase involves a study of the impact of collaborative working on beneficiaries where the purpose of collaboration has been to improve or extend services.


The brief

Building Change Trust commissioned IVAR to 'further develop previous evaluation work to focus upon exploring what has been the impact of VCSE collaboration on beneficiaries. The research will look at whether and how collaboration affects the services as experienced by the services users themselves.


Research design

IVAR undertook three case studies with collaborations in Northern Ireland. We used a mix of focus groups, surveys and interviews to get the views of service users about the services they use, and their perceptions of any changes following collaboration.

The next step is a seminar in Belfast to discuss the findings.


Find out more about our work with CollaborationNI.
Back to Live Projects
---
You might be also interested in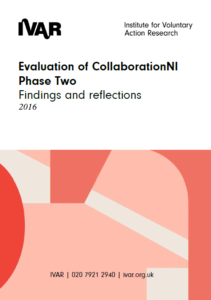 Evaluation of Collaboration NI Phase Two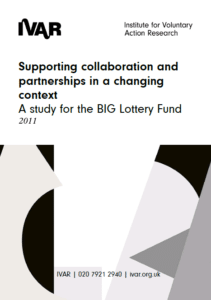 Supporting collaboration and partnerships in a changing context