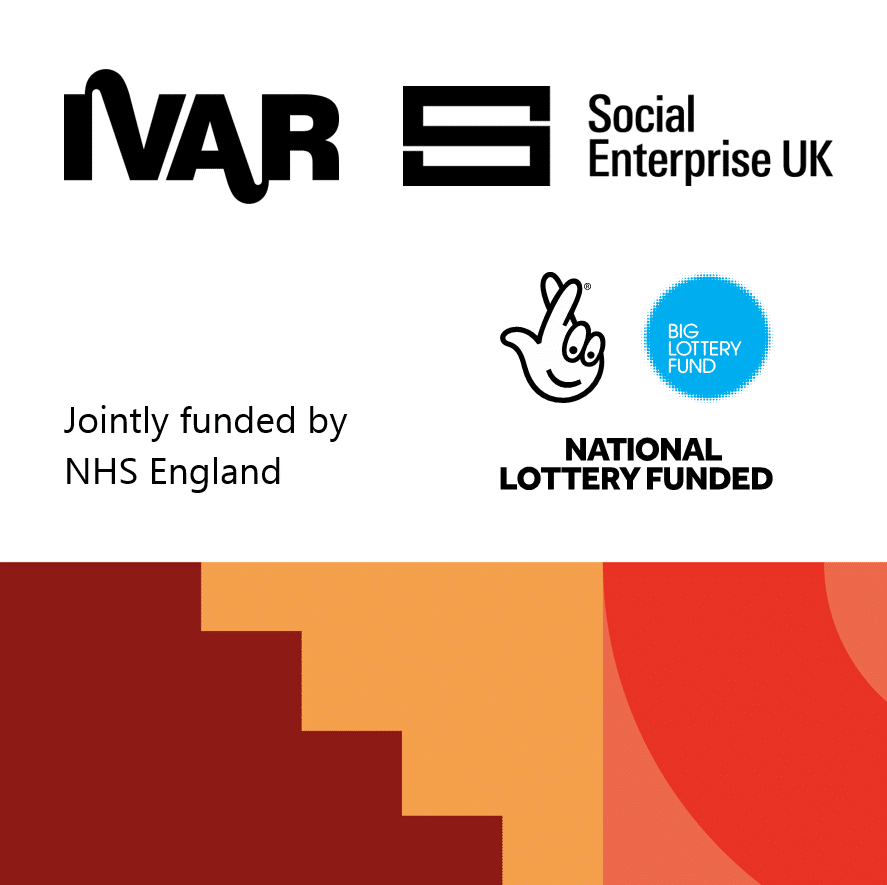 Building Health Partnerships
In partnership with: Social Enterprise UK
Topline timings: July 2018 - November 2020
live_project
Commissioned by:
National Lottery Community Fund and NHS England & NHS Improvement
Building Health Partnerships is a programme funded by The National Lottery Community Fund, NHS England and NHS Improvement that builds relationships between the VCSE sector and Integrated Care Systems to deliver improvements to care and health for local people. It aims to deliver transformational changes to health and social care through developing and building partnerships between the health sector, the VCSE (Voluntary, Community and Social Enterprise) sector and local people; with a particular emphasis on facilitating patient participation in service design and reducing health inequalities.
It offers ICSs a comprehensive package of support to help develop cross-sector relationships and strengthen the foundations for transforming healthcare commissioning and delivery by:
Building trust and mutual understanding between commissioners, health and care providers, Local Authorities, local VCSE organisations and people in communities.
Supporting senior, cross-sector staff and citizens to develop and exercise shared local leadership to build on existing momentum to health priority areas.
Developing opportunities for more effective engagement for citizens and the VCSE sector in the design, commissioning and delivery of health and social care services.
BHP provides an opportunity for ICSs to develop a model of shared leadership with VCSE organisations and people in communities. It focuses engagement on an area/issue of local healthcare systems (and ICS objectives), to produce tangible outcomes and an exemplar for others of what can be achieved through more effective joined-up working.
We are providing tailored support for co-production to nine Sustainability and Transformation Partnership (STP) or Integrated Care System (ICS) in two cohort. Work in each area being led by a 'steering group' formed of senior leaders from both the VCSE and the health and care sectors. Participating areas are be trying to break new ground and committed to trying things out at a locality level, then transferring or translating them to the wider local system. There are five elements to Building Health Partnerships include:
Bespoke facilitated support for a period of nine months
Access to a dedicated team who can support the scoping phase and development of a project Steering Group
Facilitation of cross-sector and multi-stakeholder events to set shared priorities and agree joint action
Spaces for a 3-day Leadership Programme delivered by the Kings Fund
Access to a Practice Development Network, sharing learning across the four areas, previous participating areas and beyond.
The first five STP/ICS areas that received our support included: 
Frimley Health and Care
Healthier Lancashire and South Cumbria
North Cumbria
Nottingham and Nottinghamshire
West Yorkshire and Harrogate Health and Care Partnership
You will find case studies of the work in each of these areas here.
This Second Phase of the Building Health Partnership (BHP) programme focuses on Primary Care Networks and Population Health Management, supporting four ICSs to work in partnership with the VCSE sector locally. Our second cohort includes:
Bedfordshire, Luton and Milton Keynes
Dorset
North Cumbria
Surrey Heartlands – Guildford and Waverley
We will also support leadership training and develop a Practice Develop Network' where community representatives and commissioners can share the best ways to ensure communities and patients are at the heart of STP/ICS' plans. To know more about the PDN and join it, please contact: Nancy.towers@socialenterprise.org.uk
Learning from previous programmes is available below:
Gaining recognition for the role of mental health peer support workers in Hampshire and the Isle of Wight – watch the film
Helping healthcare professionals bring carers into conversations about patients in Herefordshire and Worcestershire – watch the film
Making it easier for organisations that plan local health services to support community groups by developing a shared set of aims or "outcome measures" in Humber, Coast and Vale – watch the film
A new programme to get early diagnosis for people with lung diseases in Essex
To know more about the 'Transforming Healthcare Together' offer through BHP, please visit our page – https://www.ivar.org.uk/transforming-together/
Back to Live Projects
---
You might be also interested in
Listening to people
Patients and communities driving progress in self care