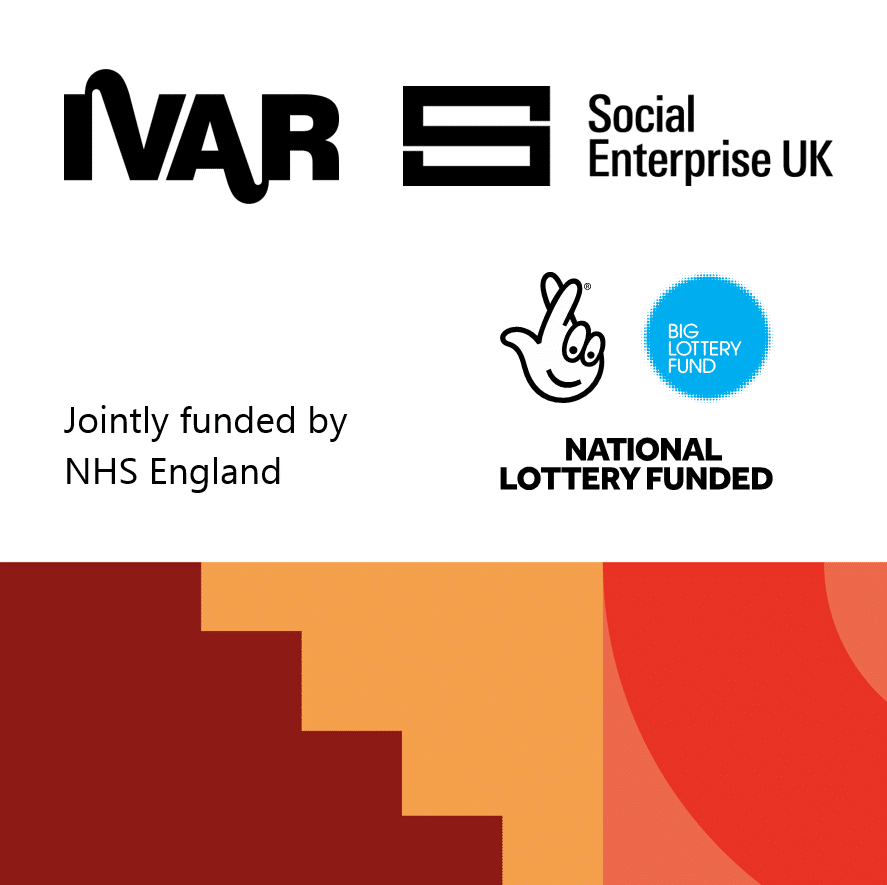 Building Health Partnerships
In partnership with: Social Enterprise UK
Topline timings: July 2018 - July 2020
live_project
Commissioned by:
NHS England and the National Lottery through the Big Lottery Fund
The Building Health Partnerships (BHP) programme aims to deliver transformational changes to health and social care through developing and building partnerships between the health sector, the VCSE (Voluntary, Community and Social Enterprise) sector and local people; with a particular emphasis on facilitating patient participation in service design and reducing health inequalities.
We will provide tailored support for co-production to 10 areas, helping to more easily involve patients and carers in designing the services they use. These 10 Sustainability and Transformation Partnership (STP) or Integrated Care System (ICS) areas will take part in two cohorts, with work in each area being led by a 'core group' formed of senior leaders from both the VCSE and the health and care sectors. The first five STP/ICS areas will be: 


Frimley Health and Care
Healthier Lancashire and South Cumbria
North Cumbria
Nottingham and Nottinghamshire
West Yorkshire and Harrogate Health and Care Partnership
Participating areas are be trying to break new ground and committed to trying things out at a locality level, then transferring or translating them to the wider local system. To date, this has included:
Gaining recognition for the role of mental health peer support workers in Hampshire and the Isle of Wight – watch the film
Helping healthcare professionals bring carers into conversations about patients in Herefordshire and Worcestershire – watch the film
Making it easier for organisations that plan local health services to support community groups by developing a shared set of aims or "outcome measures" in Humber, Coast and Vale – watch the film
A new programme to get early diagnosis for people with lung diseases in Essex
We will also support leadership training and develop a 'champions' network' where community representatives and commissioners can share the best ways to ensure communities and patients are at the heart of STP/ICS' plans. 
Learning from previous programmes is available here.
There are four elements to Building Health Partnerships:
A series of bespoke, facilitated workshops in 10 STP areas to develop partnerships that drive transformational change, with activity behind the scenes to engage, motivate and share insights and learning across the UK. 
Expert, bespoke King's Fund leadership training and support for local collaborative champions across all BHP areas: people from different sectors and with different levels of experience who are in a position to influence, inspire and catalyse change.
A Champions' Network to cascade learning from BHP areas through events and online materials in order to motivate, inspire and mentor mixed groups in other STP areas to invest in collaborative, cross sector, multi-stakeholder work. 
Bespoke resources, training and support for VCSE organisations outside of BHP areas to enhance their ability to contribute to improvement and change in local health and social care systems, as well as their capacity to support the active engagement of local people in service design. 

If you have any questions about this work, you can get in touch with us at health@socialenterprise.org.uk


Back to Live Projects
---
You might be also interested in
Listening to people
Patients and communities driving progress in self care